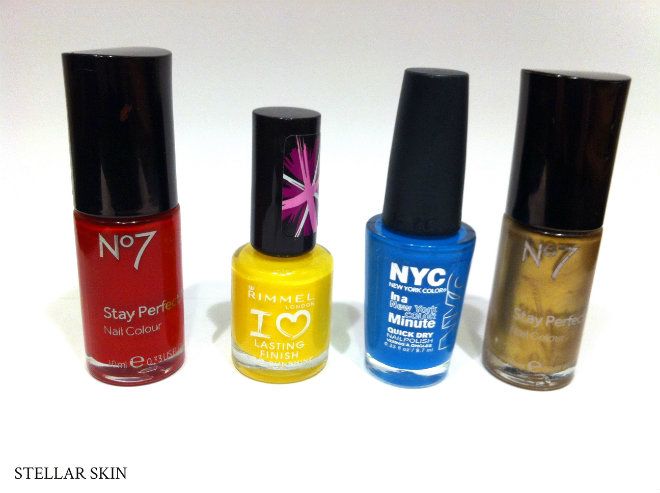 These are my TOP FOUR nail varnishes' which are great quality and not too expensive.
1. No7 Stay Perfect Nail Colour (10ml) in
Devils Delight
- I love all of No 7's nail colours, they're pretty cheap and have a nice shine to them when applied. I usually need about two coats of polish to make the colour stand out and sometimes have to wait AGES for it to dry. This one was pretty fast at drying and I especially like the brush it comes with, it's not too skinny and it's not too fat - it's right in-between. The colour is a lovely deep red which is perfect for the colder seasons.
2. Rimmel London 'I HEART' Lasting Finish (8ml) in
280 Sunshine
- Rimmel London has become a beacon of light for budget priced cult products that us Brits love, and they're nail colours do not disappoint. This vibrant yellow is a definite eye-catcher, so be prepared to have your hands ogled over whenever your wear this little darling. If I need to be picky, it's about the size of the bottles - all of my other polishes are at least 10ml yet this brand is 8ml. It doesn't sound like a lot but that extra 2ml can last quite a long time in nail-painting years so thats a bit if a downer. I hope this isn't a new trend as I seen some MaxFactor nail polishes the other day and they were teeny! Probably about 5ml and that was full size. The Rimmel London polish brush is verging on the skinny side, however, that allows for precision for application and you will need at least two coats of this for full colour impact.
3. NYC 'In a New York Colour Minute' Quickdry Nail Polish (9.7ml) in
296 Water Street Blue
- This was my first ever NYC product that I purchased and, having not heard much about the brand, I was a little dubious as to what it would be like. Luckily for me, the colour glides on like a dream and, after a couple of applications, leaves a bright, vivid electric blue shade which has a lot of staying power. This brand of nail polishes is by far the longest lasting, with mine staying on - without much chipping - for a good five days. The brush is medium sized and the colour is a great contrast from the dark tones synonymous with winter months.
4. No7 Stay Perfect Nail Colour (10ml) in
Sunbeam
- This is the perfect winter shade, it's a beautiful metallic bronze/gold colour which is wonderfully sparkly when it catches the light. Again, since it's from No7, it has the great application brush and is great value for money. Since No7 is Boot's own cosmetic brand, I usually end up with discount vouchers for them, so I end up getting my polishes for about £2.50 each. If you're looking for a nail shade that's ideal for the upcoming christmas parties, this one is it!