After the ultimate success of buying the perfect tinted moisturiser last week, I decided to try out a few more Bobbi Brown products. I was invited along, mother in tow, to attend a makeup lesson for the new season Bobbi Brown line,
'Caviar and Oyster'
. This limited edition palette is a beautiful set which contains eight shadows, a highlighter and mirror;
"Strong and smokey or soft and pretty? There's no need to choose with Bobbi's beautifully-edited selection. Featuring eight shadows and a luminescent skin enhancer, this mirrored palette makes it easy to create a multitude of party and special occasion looks. Taking a cue from the look of something pretty against something edgy, the set includes rich caviar and pearlescent black shades. Introducing the standout star of the season, Ballet Sparkle, a shimmer so sheer it can be worn on both eyes and cheeks (without ever looking overdone)." - link: bobbi brown website
I went with a smokey, dark eye whilst my mother opted for a fresh, daytime look and it works wonders. I was tempted to purchase there and then but I knew I had other items to get first and this costs £59. However, I am definitely going to save up and get this asap!
Needing a new blusher first and foremost, myself and the lovely salesgirl (also named Rachel) both decided on trying a cream blush. As I have so many powder blushers, I wanted to get a product that would give me a more dewy, flushed glow - without looking too bright. I ended up with my first product;
1. Bobbi Brown Pot Rouge for Lips and Cheeks in Pale Pink - This is a multi-award winning product which is highly recognised across all of the beauty spectrum. I've heard that Bobbi Brown herself had created this multi-tasking cosmetic after reminiscing about watching her mother apply lipstick to both her lips and cheeks when she was a child. I can also vividly remember my mother doing the same, it was the first beauty trick I picked up! This costs £18 which is good value for high-end makeup, considering you're getting two products in one.
When I apply this to the apples of my cheeks it gives a lovely, English-Rose style finish on my pale skin and looks very natural. By blotting a tiny amount onto my lips, after I've applied a bit of lip-conditioner, it gives a subtle hint of colour that evens out my whole makeup look. I am so happy with this product, I urge you all to go and treat yourselves.
One thing I've only recently been working on is getting my eyebrows to look as good as they can. Having very thick eyebrows has now, happily, come back into fashion, so it's easy for me to see how to do them from looking in all the magazines. I've been using a few eyebrow pencils and brushes to get a good shape and definition but it can be hard for them to stay in place. This brings me to my second purchase;
2. Bobbi Brown Natural Brow Shaper & Hair Touch Up in Blonde - I actually bought this as a gift for my mum as she was the one who tried it on in the store, however, since we got home I had a little go with it and now plan on using it as well. I have never tried a product like this before as it did look a little intimidating, however, once you get the gist of it then it becomes easy to use. Thankfully, I watched how the sales girl applied it to my mum so now I know how to do mine - I would recommend you all do the same and take notes from the ones who know best. This is a cream-gel formula which fills in the brows as well as shaping them - with the small wand it comes with - then dries hard so your style stays in shape. Honestly, now I have this I don't know what I could do without it! Having nice, defined brows frames your whole face and just makes you look polished. This costs £14.50 and comes in five shades, so you will be sure to get one that suits your hair colour.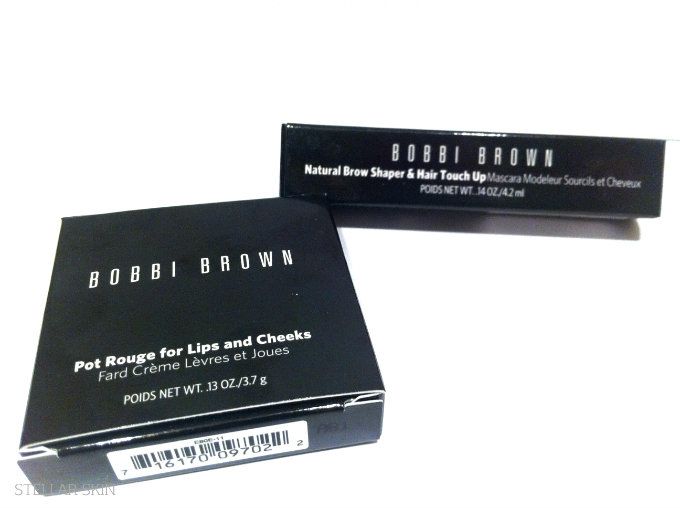 (last image via
allurabeauty
)