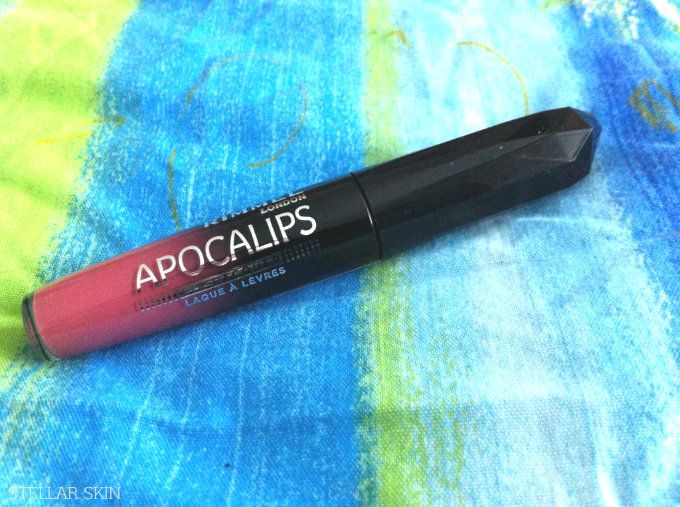 Finally! They have arrived! I've been lusting after these for the past few months and have been reading so many beauty gurus blog post reviews on them - the gurus who are more well known and thus got free samples ahead of the release date that is! Jealous!
Anyway, when I went to Boots for these a few days ago, the majority of them were sold out. I was stunned but so happy to find this one at the very back of the shelf. It is the shade I was originally wanting the most and now I have it!
Rimmel Apocalips Laque A Levres in Celestial (£5.99) - Where do I begin? These are based on the new-ish makeup trend which is happening - a liquid lipstick. The idea really appeals to me as you are pretty much guaranteed a great amount of pigmentation for the more solid colours and a different effect than a regular lipgloss. The beauty in this design is in the applicator, which is a doe foot, and the fact there is a tiny little scooped out piece of material which makes it a miniature spoon-like appliance. This means that you get the perfect amount of product on you lips evenly every time you smear it on. LOVE love love! It also feels much nicer to put on than my regular lip glosses for some strange reason! It is also cleverly shaped as it lets you get razor sharp lines of colour around the lips - and also helps outline a nice cupids bow with such easy precision. The colour of this is beautiful! It is not your average pink; much more of a dusty rose pink, which I think looks very chic. The smell I think is watermelon, which I'm ok about (I would've preferred vanilla if I'm honest) and the packaging is rather nice. The great thing overall about this is its lasting power - it really does set in very quickly and you will realise you don't need to touch up much at all during the day - except for eating/drinking/kissing of course - and when I have this on, my lips feel much more plumped up. I must admit, I have been pouting a bit more than usual when I've worn this!
I would've scored this the perfect "10" but I had to deduct for the lack of vanilla-scented-ness (petty, I know), however, I am majorly impressed with this! I did worry it would be an overly hyped letdown but I really can't wait till I get a few more for my collection! I have my eye on "Stellar". Obviously!